| | |
| --- | --- |
| Posted by George Freund on July 24, 2012 at 10:30 AM | |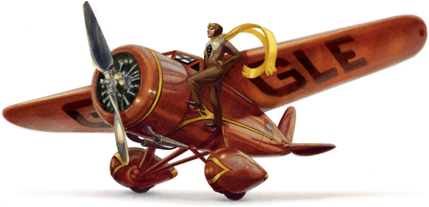 Even though I'm enjoying a day off, the world stops for no one. In a nutshell the registration number is usually the markings on the plane. In this case we have GGLE. What are the odds there is an aircraft with that marking? Pretty damn good I fear. This plane is viewed most often in Belgium. The similarity to the doodle is ominous. There is a Canadian aircraft that flies in the Arctic, C-GGLE, but it is a multi-engine aircraft. There is much mystery surrounding Amelia's disappearance. Suffice it to say her mission most likely was prewar surveillance of the Pacific. Of course no one should be warned of possible Japanese aggression. The surprise attack on Pearl Harbour had to succeed. More will follow.
-
-
Ggle Highs the music portion of the code.
-
Ggle Highs borrow from the old masters in terms of crafting dark masterpieces in the minimalist synth vein, but unlike most bands who attempt to pull off the hypnotic 80s creep-club sound they manage to keep it interesting by constantly shifting strategies and working in interesting elements — e.g., "Whoa… was that… a pan flute?!?" The tracks pulse and writhe and demand and manage to keep the dance party rolling all the while. Take a listen to "The First Suicide Ever" and note the careful build, the haunted house vocals, and of course the magic that unfolds right around 3:30 when the drums and keys make a sprint for the finish. Get yourself a listen over at Soundcloud, then make sure to add them to your IT'S 3AM AND I'M PARANOID BUT STILL PARTYING playlist.
-
-
The power of suggestion might be suicide bomber in a light aircraft. The pilot may very well be a woman.
-
GGLE HIGHS
-
I think we're getting the picture. The music is very popular in Russia.
-
Of Chaos And Hell (Ggle Highs Remix) It's music to NWO ears.
-
Amelia was reported last near the Kiribati atoll of Nikumaroro. The Kiribati's were well used for what else nuclear testing. There is no better symbolism for the forth coming Olympic games in London. As memory serves me some years ago a man was exposed as an Al Qaeda operative in the Phoenix Islands a part of the Kiribati nation. There is great symbolism with the Phoenix since the Phoenix memo was a major ignored warning to impending terror on 9/11. So the details imply Al Qaeda and a nuclear suicide attack by air with a female pilot. There is no better chaos from hell.
-
Vagina Vangi — Of Chaos And Hell (EP Version)
-
This version is the original. It starts with the bell just like the Olympics will. Her destination was Howland Island. There are many Howlands in London.