| | |
| --- | --- |
| Posted by George Freund on June 10, 2012 at 1:05 PM | |
-
History always repeats itself mostly because no one wants to look at a painful truth. The trouble is if we don't look at painful truths, we're condemned to live through them. It is like this today in Italy where the first perhaps of many banks has decided to take a 30 day holiday. Banca Network Investimenti has walled out its customers. Imagine if you go to the machine, and it's closed. The door to cyberspace is blocked. Your direct deposit pay is in another dimension of time and space, and of course the physical doors are closed too. Imagine like the reporter of the story all you have is the cash in your pocket which was in that case 20 Euros.
-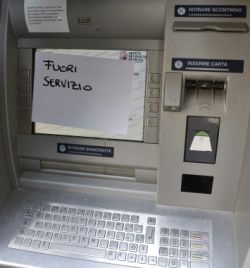 -
Do you have a PLAN B? You should seriously consider being your own bank as we approach the cliff. A central bank would have gold reserves so should you. You should hedge your net worth to at least 10-15% in precious metals. If cash collapses which is a very real possibility, precious metals can rise to infinity. Paper money can collapse to zero. It is after all a cheque based on a promise to pay. The banks are NSF!
-
-
-
-
The $100 hundred trillion note bought a bus ticket by the way. In the link an enterprising gentlemen sold them on e bay for $5 in U.S. currency I would imagine. That was a brilliant idea. When all currencies tank, they'll be no buyers. Currency is just paper. It is nothing more. It is a promise to pay. The promises are worn out.
-
-
A lot of hard lessons are going to be learned very quickly. One of the most telling is people get very desperate when they get hungry. I mean the pain from hunger will drive you insane. I do heartily recommend you stock up on things you need like food. There will be no remedial lessons. It will be survival of the fittest. Even if you have a job, it will be difficult to turn the funds to cash during the holiday. If the vacation is permanent, even governments won't be there for a safety net. If you didn't make your own, you'll face death.
-
There is talk of another bank buying Banca Network. That may ultimately cut the holiday short. There will come a day and I fear it may be sooner than later when there will be no one or no thing to rescue anyone. Don't get caught without food in your larder.
-
-
I made a point of telling all my neighbours what is happening. We will need to depend on each other. Those who fuss with pop culture probably have no idea what is about to happen. Everyone who prepares is one less to feed. We put our faith in institutions of men like banks and found them on holiday. God is never on holiday. Put your faith there and prepare. You'll need more than 20 Euros to survive.
-