-
It should not come as a shock in alternative media that the greatest threat facing the world today is the
missile defence shield
offered up for Europe. The reason is supposed to be to protect Europe from a rogue state such as Iran firing a missile into Europe if and when they ever acquire a nuclear weapon. That's a lot of investment for an if. There can be little doubt that the primary focus of missile defence is Russia a country not completely under the hegemony of the western capitalist version of the New World Order or global government attempt. You see in my worldview, I subscribe to the opinion that it never was nationalism being the cause of war as the global mantra has coined. I've believed it was globalism in all its competing versions that was the cause for war and social injustice. Blaming the victim is a common ploy of the conqueror.
-
The first stage of the defence shield
that is to become operative on May 20th the first day of the Chicago NATO conference involves radar in Turkey and
Aegis
fitted destroyers of the U.S. Navy upgraded with anti-missile capability. The ships will be deployed in the Baltic and Mediterranean Seas. It will take many years to have the ground based system in operation. The Russians are under the opinion that this system is to counter their missile program. That would be a valid conclusion to make since Iran doesn't have the capacity to attack Europe even if they wanted too. The fool's errand is that our leaders are antagonizing a world power with a highly evolved nuclear arsenal that has the capacity to lay waste to most of the planet earth to protect us from a nation that cannot.
-
-
Valkyrie is a Norse word
meaning chooser of the slain specifically a female figure who decides who falls in battle. Valkyries bring their chosen to the afterlife. It should come as no surprise that
the elite rich have decided to cull the herd
a little. They wish to usher billions to the afterlife. This was the prevailing theme in the Howard Carter Google doodle we studied previously. Anubis was sent to several locations around the world to lead us to that end. However, as an operational plan name in the plot to kill Hitler Valkyrie was an object failure.
-
Then light shone from Logafell,
and from that radiance there came bolts of lightning;
wearing helmets at Himingvani [came the valkyries].
Their byrnies were drenched in blood;
and rays shone from their spears.
-
-
Our analysis of the recent Google doodles have a steady constant theme of the Apocalyptic. The nature, frequency and intensity seem to be increasing. We are approaching a crux. I've said for years that President Bush restarted the Cold War. I further extolled that Russia would not take these matters lightly. In fact conflict could very well start out of this bull in a China shop world view. We have now arrived. The criminal cabals running our nations are prepared to lead their unsuspecting people to this afterlife. We give them our consent through our acquiescence. If we look at the facts presented, we see the
march to Year Zero has commenced
.
-
-
Well, boys, I reckon this is it - nuclear combat toe to toe with the Roosskies.
-
Mr. President, I'm not saying we won't get our hair mussed. I do say, no more than ten to twenty million killed, tops! Depending on the breaks.
-
Of course
Dr. Strangelove
was a work of genius if you've never seen it, but the above line shows the Russians have been preparing for years. They have updated their nuclear bomb shelters.
They built 5,000 more
just in the Moscow area. They were made operational for 2012. Oh yea. That's today. So don't feel bad the Department of Homeland Security has organized 15 regional supply depots underground I hope. So in the high stakes poker game about to proceed Russia can guarantee most of it citizens survival. NATO cannot. At the brink our only game plan aside from suicide would be surrender. I think now we know why we have a communist trained Manchurian President. I'll lead you to the brink and then throw in the towel. I'll still be President of the new Soviet Republic.
-
When I put my finger on the button you throw in the towel Comrade.
-
You see the Russians excel at chess. On the grand chessboard the citizens of the United States and many other NATO countries are sadly lacking in understanding any strategy. I was thoroughly convinced we were being led to the afterlife when they completed the
Doomsday vault
for the world's seed supply. I mean what's to think. To add icing to the cake
Mr. Putin is declining his invitation to the G8
Summit later this month. Mr. Obama, guess who's NOT coming to dinner. The Russian and Chinese have conducted
joint naval exercises
last month as well. It's sure is getting a lot colder out there for those with eyes to see and ears to hear.
-
People's Liberation Army (PLA) Navy Commander Wu Shengli (1st L) and officers inspect the fleet review of the
Russia-China joint naval exercise
in the Yellow Sea of the Pacific Ocean, April 26, 2012. Chinese and Russian warships concluded a live ammunition exercise on Thursday, following a no-weapon joint war game earlier the same day. Photo: Xinhua
-
In
Bible Code III
many events were foretold. Many of the events have been prevented. One that remains for 2012 was Obama winning the election and being sworn in in
Raven Rock the 'war room'
buried inside a mountain near Camp David. I hear the
G8 summit will be moved
to Raven Rock from Chicago over security fears. The attendees will be able to dash underground should the unthinkable occur. Israel was NOT invited to the NATO summit or maybe they know to stay away from certain earth shattering events.
-
"How is it, ye ravens—whence are ye come now
with beaks all gory, at break of morning?
Carrion-reek ye carry, and your claws are bloody.
Were ye near, at night-time, where ye knew of corpses?"
-
A valkyrie speaks with a raven (1862) by Anthony Frederick Augustus Sandys
-
They seem to plan everything down to the last detail don't they? Of course there are many important diversions that command the attention of those who will be lead to the afterlife. The Bible Code III talked about a 'HUGE WAR' in 2012. It spoke of nuclear terror in 2011 in New York with the words NEW YORK ATOMIC 2011. We have taken the initiative to speak about that. We read the Google doodles on this last year. They are posted on this site. We diverted or 'delayed' this event as the code foretold. That's what 'friend' is for. The next task will be to forestall the HUGE WAR. With your help and understanding that can be accomplished. All we have to do is change the channel. That's not so tough. Surviving the nuclear winter will be the misery of miseries.
-
Russia is prepared to build missile facilities in Latin America. They will ring in the North American continent with a ring of warheads too. This is NOT what the world needs right now, But after economic collapse comes frequently war and conflict. We must break with the pattern or perish to the stone age again. This isn't the first time. We've done it before. In the Mahabharata the events of an ancient epochal battle between two kings are recorded. There is evidence in India of a previous atomic war. That like many things is intentionally left out of the curriculum of the public school system. Without knowing our history we are condemned to repeat it. Perhaps someday someone will find our words and wonder what we thought while huddled together in mass death.
-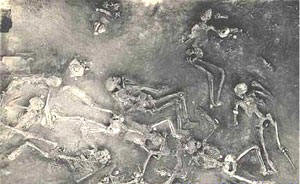 -
Of course we were told to choose life. There is only one candidate for President offering Apocalypse avoidance. He is Ron Paul. He must be carried to the White House. In a LaRouche video May 20th, The Day of Reckoning the details of the crisis are well spoken. Washington must be reined in. A massive multi-million citizen march should be made. The 40 miles square should be blockaded until they submit to we the people. They are playing high stakes poker with your lives. The best case scenario is Obama will surrender America to the Russians because they can survive a nuclear holocaust with their bomb shelters and we cannot. In the face of 30% plus fatalities we'd have no other option because 'winning' the war would be losing it to a greater degree. This is the Faustian bargain we face. This will be a stellar year. Conspiracy Cafe is the point of the sword. There is nothing quite like it. Mainstream is dead stream. We change or perish for not.
-
You don't need a birth certificate to rule. You need a poker face and guts.
-
May 20th will probably not mean war. It will be the crossing of a threshold that will be more and more difficult to return from. See you Thursday with the continuing ride to Armageddon.
-
CHANGE
-