-
In the game of world global domination, there are no rules. Everything is connected to everything else too. Last month in Sanford, Florida there was a deadly force confrontation between a neighbourhood watch volunteer and a guest to the gated community he was watching.
-
The shooter George Zimmerman observed a suspicious young black male person entering the property which had experienced a number of breakins in the recent past. George called 911. He approached the visitor who we know as the gun control cause celebre Trayvon Martin. Mr. Martin was unarmed. Mr. Zimmerman was. There was a confrontation. Mr. Martin was shot and killed. It should never have happened like that. However, it did.
-
In my long association with the shooting sports and being trained in the use of deadly force in Ontario, Canada; I have strong opinions. One of the issues concerning people who may enter a deadly force confrontation is that either way that will be the worst thing to ever happen to you. If you are killed, that will be the worst. If you shoot another person, that will be the next worst thing to ever happen to you as Mr. Zimmerman is learning first hand.
-
The facts and details are being concealed to a great extent to allow this unfortunate incident to become a propaganda goldmine for the Obama administration. The Birth certificate issue is reaching a crisis point. Former Hawaii elections clerk Tim Adams has come clean saying there was no long form birth certificate. Arizona's Maricopa County Sheriff Joe Arpaio has stated the documents presented are fakes. I mean what's a fellow supposed to do. He plays the race card.
-
This is where the media shows its hand too. We imply that Mr. Zimmerman is white not Hispanic. We let the stereotypes play to the max for effect. That is why we have called out the big guns like Al Sharpton. I mean this is so important to the plot to destroy America the guy had to pass on his mother's funeral. I had to go in a wheelchair forcing myself in pain every inch, but that's me.
-
There are other factors at play as well in this psy-ops of the 21st century. The UN is meeting to complete the small arms treaty this summer. America's Second Amendment is a real thorn in the side of this. To have a full and complete New World Order we have to convince everyone to relinquish their arms so that they can be effectively slaughtered.
-
I'm sure Mr. Zimmerman is no poster child in tact and diplomacy. He is very remorseful about what has happened and even cried about it for days. That little detail will be left out of the Jihad press stirring the pot. In hindsight I'm sure Mr. Zimmerman would have preferred to wait in the car. I've followed many felons. Stay back and watch them from a distance. They'll only create more evidence of more serious crimes. You can replace a window. You can't bring the dead back to life.
-
-
Another mute point is the unarmed status of Mr. Martin. Since Mr. Zimmerman was armed, he was in a position where he would have to protect his weapon as a last resort because if he lost control of it, he would have been shot with his own gun. This is a common occurrence. It is not one you consider when you arm yourself. Let's pretend Mr. Zimmerman ran away as any good Liberal would suggest. From the image of Mr. Martin in the football jersey it would be prudent to expect he could outrun Mr. Zimmerman. At that point he would be able to overpower a winded Mr. Zimmerman. The gun would be his for the taking and nobody would be debating this. That is why situational avoidance is so important with possessors of firearms. At the last resort you have to prevent loss of control of the gun. They are easily taken away by someone who knows how or gets lucky the first time. Your luck runs out after that.
-
I have been in situations like that. It is worrisome. If you lose the gun, you can be killed; but the aggressor is unarmed. In my case I put my thumb across the release of my holster so the gun couldn't be taken from my holster. As the aggressor reached for my holster my hockey coach saved my life. I hip checked the guy in the nuts with the gun butt, and he went down like a ton of bricks. He got up with a whole new attitude, and my female partner blessed me with the nickname 'studmuffin.' That wasn't in the books. I had to write the book quickly while stepping back. Shooting an unarmed man would have put me in hot water. I had to protect my partner, my weapon, and thank God my coach only stressed one thing the hip check.
-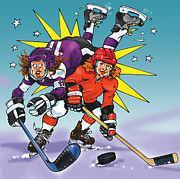 -
There is another issue in the matter as well. There is evidence Mr. Zimmerman made disparaging remarks towards Mr. Martin. That is a BIG NO NO! In my little confrontation when I was protecting cash with an armoured car company as related above, the other guy was swearing and cursing up a storm. You have to be very polite just in case you have to use deadly force. I always called him 'Sir'. I told him over and over to stay back. When I was backed into the wall with no where to go, I saw my opportunity and took it. No one realized anything was amiss until the guy fell through the Big Gulp display. Your words will be interpreted as intent later. Mind what you say.
-
THE 911 CALLS AND COMPREHENSIVE ARTICLE
-
Mr. Zimmerman made many serious mistakes. Was it murder? There's a grand jury to decide that. This is like Murdoch's media lynch mob. Nobody gets a fair trial because I BBQ anyone I want to cover other more serious crimes. He walked into an ambush. It's like when my father taught me to drive, sometimes you have the right of way. Don't be dead right. It's like that in the land of concealed carry. The best fight is the one you don't get into. You only do the second worst thing in your life to prevent the first. It takes enormous self control.
-
-
Another facet to the case since everything is interconnected, is the fact Obama shoots people too lots of them. He uses drones. The orders they are launched by are his murders. It's O.K. for him to kill the people who get in his way called the sand niggers by the people who actually follow through on it, but the double standard exists in the 'homeland.'
-
-
If I had another son Mr. President, he may have been this boy. At least Trayvon had a choice to back away. These children don't get any choice. You just send death from the air. Shut up hypocrite. If Trayvon advanced on your bodyguards, they'd have shot him down too. So put the race card back in the deck before more good lives are lost in this NWO charade.